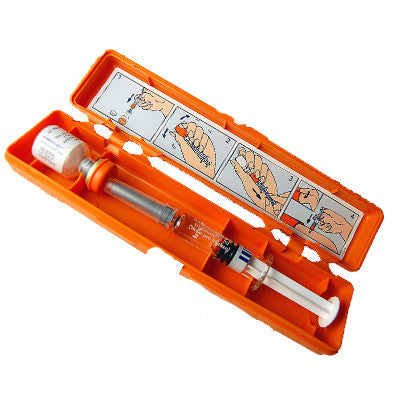 GlucaGen HypoKit (r) 1mg, DIN# 2333627
This kit contains: 1mg vial, syringe and plastic case.
What is GlucaGen® HypoKit®?

GlucaGen® (glucagon [rDNA origin]) HypoKit® is Novo Nordisk's glucagon emergency kit for the treatment of severe low blood sugar. It contains an injection of glucagon, a hormone that raises your blood sugar level.

Glucagon works by triggering the liver to release stored sugar, raising blood sugar levels. It is injected under the skin, similar to how insulin is injected.
Products posted on the site not manufactured by the Insulet Corporation are considered related items that can be used with insulin pump therapy. The Insulet Corporation nor Bayshore Specialty Rx endorse any of these products directly. These recommendations have been shared by customers whose needs, preferences and situations may differ from yours. Discuss these products with your healthcare provider prior to trial.
---