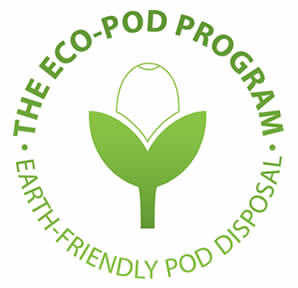 Eco-Pod Disposal Kit
In order to view pricing and to purchase this product please LOGIN HERE.
---
---
Only one kit per order - Kits hold 50 pods
How to dispose of your Pods the earth-friendly way.
Using the earth-friendly pre-paid Pod disposal program is quick and easy for you, but makes a huge difference for our environment.
The program comes at no cost to you, but can help have a positive impact on our environment.  By returning your used Pods through our pre-paid program to be recycled you can help minimize landfill and remove hazardous waste.  How it works:
Place up to 50 of your used Pods in the plastic bag - Seal the bag
Place the plastic bag in the shipping envelope - Seal the envelope
Complete and insert the supplied waybill into the supplies transparent adhesive waybill pocket - Attach pocket to envelope
Only include Pods.  DO NOT include syringes in the bag.  These cannot be recycled, and will prevent the Pods from being processed.
Limit one per every 5 orders
Call 1-800-463-3339 or visit www.FedEx.com to find the nearest drop-off location.
Products posted on the site not manufactured by the Insulet Corporation are considered related items that can be used with insulin pump therapy. The Insulet Corporation nor Bayshore Specialty Rx endorse any of these products directly. These recommendations have been shared by customers whose needs, preferences and situations may differ from yours. Discuss these products with your healthcare provider prior to trial.
---