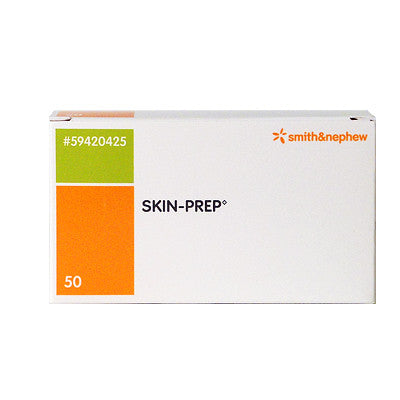 Skin Prep
Skin Prep Antiseptic Skin Preparation (50/box)
Indications:
Antiseptic wipe. For preparation of the skin prior to a ventipuncture or injection.
Sweating and humidity can affect how well your tape will work. That's why you should always "Prep the site." Skin Preps provide antiseptic cleansing, reduce irritation and, best of all, make the tape stick better.

Warnings:
Flammable Keep Away From Fire or Flame. Do not use with electrocautery procedures. For external use only. Do not use in or near the eyes. Discontinue use if irritation or redness develop. If condition persists for more than 72 hours, consult a physician.

Features
Clear formula
Single use packaging
Benefits
Effective
Easy to apply
Dries quickly
Reduces bacterial contamination
Cost-effective
Products posted on the site not manufactured by the Insulet Corporation are considered related items that can be used with insulin pump therapy. The Insulet Corporation nor Bayshore Specialty Rx endorse any of these products directly. These recommendations have been shared by customers whose needs, preferences and situations may differ from yours. Discuss these products with your healthcare provider prior to trial.
---