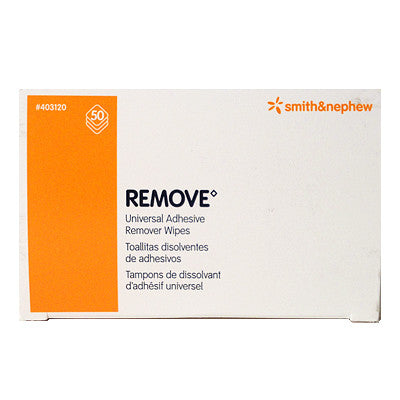 Remove Adhesive Remover Wipes
Box of 50
Indication:
For the removal of adhesive devices.
For the removal of adhesive residue from skin.
Softens adhesive on tapes, films and appliances thereby minimizing trauma caused by adhesive removal.

Benefits:

Aloe moisturizes and conditions the skin without greasiness.
Gently cleans hydrocolloid, acrylic and rubber-based adhesive residues from the skin without irritation, discomfort or trauma.
Applies easily and removes quickly with less need for reapplication.
Non-irritating and non-sensitizing, even for ostomates and geriatric patients.
Can be used anywhere there's a need for an adhesive dressing.
Cost-effective and convenient single-use wipes; also available in bottles.
Environmentally friendly and does not contain ozone-depleting chloro-fluorocarbons (CFCs).
Laboratory and clinical safety data available.
Products posted on the site not manufactured by the Insulet Corporation are considered related items that can be used with insulin pump therapy. The Insulet Corporation nor Bayshore Specialty Rx endorse any of these products directly. These recommendations have been shared by customers whose needs, preferences and situations may differ from yours. Discuss these products with your healthcare provider prior to trial.
---