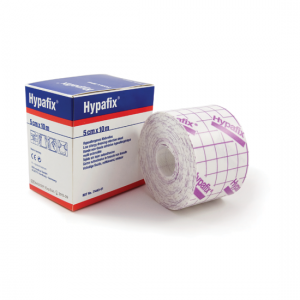 Hypafix Dressing
Size: 5cm x 10m
BSN medical, the maker of Hypafix, is a medical device company and global leader in the worldwide healthcare market, specializing in the areas of Orthopaedics, Compression Therapy, and Wound Care. They are focused on the development of world-class branded products that offer high quality solutions.
Comfortable, non-woven dressing retention tape.
Secures dressings, tubes, catheters and instruments quickly and easily even in hard-to-tape areas
Stretches for easy application and resident comfort
Products posted on the site not manufactured by the Insulet Corporation are considered related items that can be used with insulin pump therapy. The Insulet Corporation nor Bayshore Specialty Rx endorse any of these products directly. These recommendations have been shared by customers whose needs, preferences and situations may differ from yours. Discuss these products with your healthcare provider prior to trial.
---