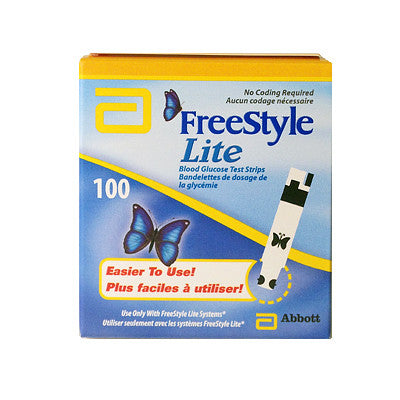 Freestyle Lite Test Strips
Did you know that you can use the Freestyle Lite Blood Glucose test strips for your PDM?  As of May 31, 2017 Health Canada has approved the use of both Freestyle Regular and Freestyle Lite strips for use with the Omnipod PDM.
FreeStyle™ Lite Blood Glucose Test Strips - (100/Box)
For the Omnipod­ ® Insulin Management system
Features:
Works with blood sample the size of a pinhead
Easily samples from sites other than the fingertip
No pumping squeezing or milking necessary
Products posted on the site not manufactured by the Insulet Corporation are considered related items that can be used with insulin pump therapy. The Insulet Corporation nor Bayshore Specialty Rx endorse any of these products directly. These recommendations have been shared by customers whose needs, preferences and situations may differ from yours. Discuss these products with your healthcare provider prior to trial.
---