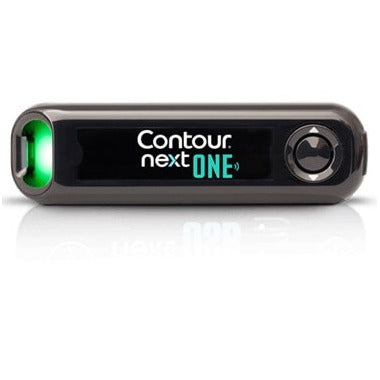 FREE* Ascencia CONTOUR NEXT ONE Blood Glucose Meter
By integrating your blood glucose meter with a smartphone app you can simplify the management of your diabetes. Blood glucose results captured throughout the day can be automatically synced and logged. And over time, your results may create meaningful insights into how your activities affect your blood glucose levels, which can help improve the understanding of your diabetes. All the while being on the same platform you use for so many other aspects of your life – your smartphone!
Simple to use, the remarkably accurate CONTOUR® NEXT ONE smart meter and CONTOUR® DIABETES App system seamlessly connect to capture all your blood glucose readings and help you to manage your diabetes, smarter.
This smart system allows you to engage at the level that is right for you to manage your diabetes.
FREE* with a purchase of one box of Contour Next Strips (100/bx) - Limit One meter per customer / per every 6 months

Products posted on the site not manufactured by the Insulet Corporation are considered related items that can be used with insulin pump therapy. The Insulet Corporation nor Bayshore Specialty Rx endorse any of these products directly. These recommendations have been shared by customers whose needs, preferences and situations may differ from yours. Discuss these products with your healthcare provider prior to trial.
---