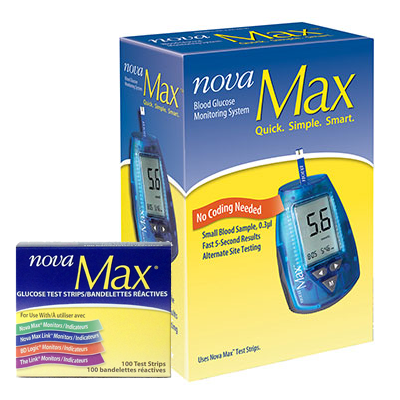 Free Nova Max Meter + Strips
Included in the bundle:
One box of Nova Max Blood Glucose Test Strips (100/bx)
One Nova Max Meter
Nova Max Plus incorporates advanced technology for accurate and precise self-monitoring of blood glucose and ketones by people with diabetes. Nova Max Plus has the most comprehensive features for fast, easy, and error-free blood glucose and ketone monitoring.
Glucose and Ketones on the Same Meter

The Nova Max Plus Glucose Meter automatically converts itself to a Ketone meter by inserting the Nova Max Plus Ketone strip.
Products posted on the site not manufactured by the Insulet Corporation are considered related items that can be used with insulin pump therapy. The Insulet Corporation nor Bayshore Specialty Rx endorse any of these products directly. These recommendations have been shared by customers whose needs, preferences and situations may differ from yours. Discuss these products with your healthcare provider prior to trial.
---